Muchacha: A quarterly fanzine that seeks to promote the "F" word feminism, encourage involvement in the DIY music/art community & inspire participation in grassroots activism.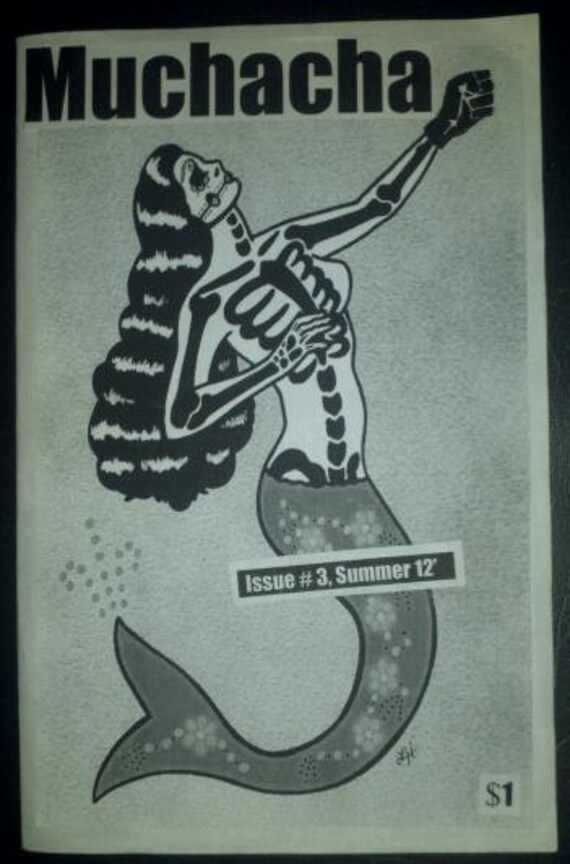 Muchacha was created by Daisy Salinas, who is described on their Tumblr as "24, grad student, intersectional Latina feminist."
- ISSUE #1 Winter 2011 Punk & Feminism
- ISSUE #2 Spring 2012 Race, Feminism, Friendship & What It Means To Me
- ISSUE #3 Summer 2012 The Adventures of a Feminist Mermaid
"26 pages in length, this eclectic issue covers part 1 of the adventures of a feminist mermaid, Mexico's drug war and a 'Fierce Feminist' fighter for education. Other topics range from the 'Sandwich Fairies' and homeless rights, intersectionality, a book review, film and band recommendations, original song lyrics, feminist poetry, quotes, punk/feminist styled collages and more!"
- ISSUE #4 Who Says Feminists Don't Have A Sense Of Humor? HAS A CALL FOR SUBMISSIONS (DEADLINE SEPTEMBER 1)
E-mail Riotgrrrl56@yahoo.com if you are interested in buying an issue for $1 plus shipping, trading zines, a free PDF copy, OR if you are interested in submitting any writing, art, etc. to the next issue.
You can also buy Muchacha on Daisy's Etsy.
—————-
Editor's Note: A "Community Submission" post results from a POC submitting their own zine to be featured on the POC Zine Project Tumblr. If you would like to share your zine with the POC Zine Project community, here's how to do it.
When you submit, feel free to add some background, a description of your work and art and your mission statement. If you just send us the name of your zine, we'll simply link back to a source for purchasing it and use the language you already have on your site.
As long as the zine was created/co-created by a person of color, we will always share Community Submissions. Enjoy!